HEATHROW AIRPORT PARKING – A MULTITUDE OF OPTIONS
To give you the ease of driving to the airport and leaving your car while you are travelling, visiting or waiting for arriving passengers, several organized and secured parking lots all-around the airport are awaiting you.
Some are dedicated to a specific terminal; others offer transfer options to all Heathrow Airport terminals.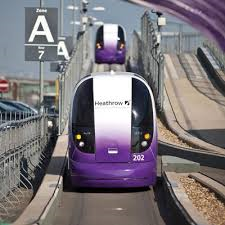 There are also several options you can choose from, depending on the length of your stay, the ease of access to the airport or services you expect and the fee you are willing to pay.
However, one of these parking lots stands out for the high and futuristic technology it is applying. The T5 Pod Parking has surprised London and the World for its technological innovation. Not only are the arriving and leaving cars registered and processed by computerized number plate recognition; a fully autonomous system of self-driving pods running on a particular driveway transfers the users of this parking fast, silently and unhindered from their parking to the Airport's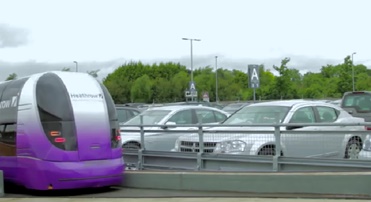 Terminal 5 and back. With this path-breaking technology of ecological, fully automated and readily available transport cabins London Heathrow sets an example for future short distance urban transportation, and it is admired as well by the delighted and fully satisfied users as by city planners and transportation engineers worldwide.
So how can you benefit from the ULTra Personal Rapid Transit System, as it is called? Drive to Pod Parking T5, choose a parking space and walk to the "pod" station A or B. Tap your destination on a touch screen. If no pod is waiting, you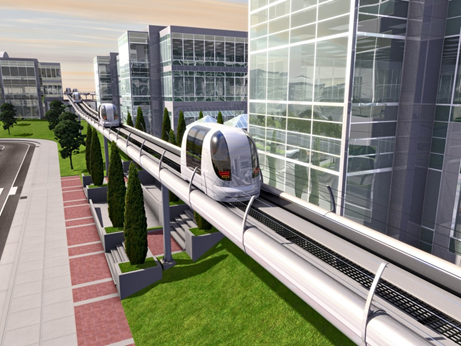 can just call one up – it will be there for you within half a minute at most. Enter the pod – you can share it with up to 4 persons – and you can easily roll in your luggage, a stroller or even a wheel chair. Once seated comfortably, push a button to close the door and drive off – and there you go for a trip (and an adventure) in this cute shuttle worked out by brilliant brains at the University of Bristol and developed by the company ULTra, who also runs it. Each pod has a built-in computer that receives its instructions from the central coordinating computer, which works in a way similar to an air control centre, when you select your destination. It will drive up to 25 mph (40 km/h) on a specially designed track, using its four lasers to avoid bumping into the sides of the guide way or any obstacle, and manage priorities when it encounters other pods on the way. You can just enjoy the sight out of the windows, and know you will reach your target safely within 6 minutes maximum, without traffic congestion or stops on the way. Most users are excited about their ride and qualify it "absolutely fantastic", "brilliant", "very impressive" and more – the Heathrow Pod transfer reached the
highest customer satisfaction ratings of any means of transportation. The Heathrow Airport Administration underlines that this ecological shuttle system, working on batteries that are automatically recharged at the pod stations, replaced the former 70'000 bus journeys daily – simultaneously freeing the road of their presence.
An expansion of the system from the now 21 pods transporting up to 1500 persons per day on the 4 km track from the Pod Parking T5 to Terminal 5 and back is planned to include Terminals 4 and 3. Even if you are not a business traveller, you can use Pod Parking T5 to reach Terminal 5, and experience a thrilling pod ride. Follow the ULTra Personal Rapid Transit System on its path to the future!
HOW TO CHOOSE THE IDEAL PARKING FOR YOUR NEEDS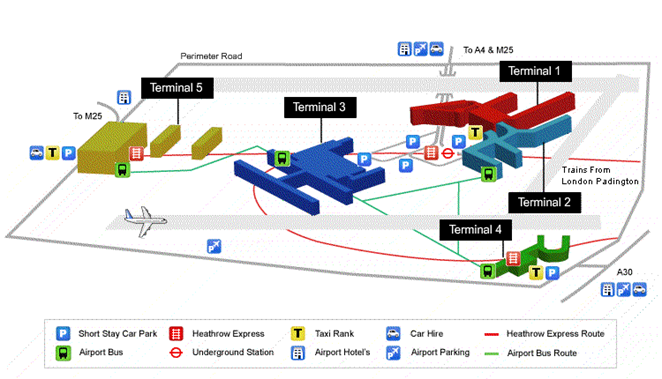 Heathrow Short Stay Parking
At every terminal of Heathrow Airport you will find a short-stay parking where you can leave your car in a safe location conveniently close to the terminals. It is ideal for dropping travellers, visiting the airport or waiting for people coming back from their trip. However, you can also opt to leave your car there for a longer period of time. You may also consider this option if you travel with children, or have much luggage.
Prices vary according to the duration, starting with £3.50 for half an hour, to £6.50 for an hour and £49.00 for one day. However, 24 hours cost just a little more – £56.00. You can book online and benefit from discount.
Heathrow Long Stay Parking
The long-stay parking lots around Heathrow Airport are the right choice if you plan to travel for an extended period of time, with the peace of mind of having your car secured by illumination, frequent patrols, high fences and CCTV monitoring. Each of them offers shuttle buses every 10 minutes to all terminals.
Their fees are also cheaper: the first day costs between £26.00 and £29.90, and each following day £20.50/23.60. Of course, by booking in advance you will obtain good discounts – up to 60%!
Even if you don't plan to stay and just have to drop off or to pick up passengers from the airport you can choose the long-stay parking: they will grant you two hours parking for free. However, you will have to calculate the time you need for the shuttle buses.
Heathrow Business Parking Terminals 1, 2 and 3
Business parking intends to offer the busy business traveller ease and security of use bundled with frequent shuttles to reduce his or her transfer time.
This parking offers transfer coaches every 5 minutes, with an average driving time of 8 minutes to Heathrow Airport Terminals 1, 2 and 3.
The drive-up fee for one day is £26.00 or £28.00, depending on the day of the week.
Heathrow Business Parking Terminal 4
Beside the usual security, the Business Parking Terminal 4 offers transfer on demand – and it takes only 3 minutes to reach the terminal.
The prices are as well  £26.00 / £28.00 per day.
Heathrow Business Parking Terminal 5
This fenced security business parking gives you access to shuttles every 5 minutes. Transfer time to Terminal 5 is only 5 minutes. The same prices as other Business Parking apply – £26.00 / £28.00 per day, less if you book in advance…  Furthermore, the transfer service is included in the prices.
Heathrow Terminal 5 Pod Parking
This innovative parking offers fully automated car registration, 24 hours security and the distinctive Heathrow driverless pod transfer service. You can take a pod at pod station A or B – whichever is closer to your car park – and let it shuttle you gently and conveniently to Terminal 5 within 4 to 6 minutes.
The price for this ground-breaking service is £32.00 / £34.00 per day respectively, according to the day of the week, and includes the pod ride.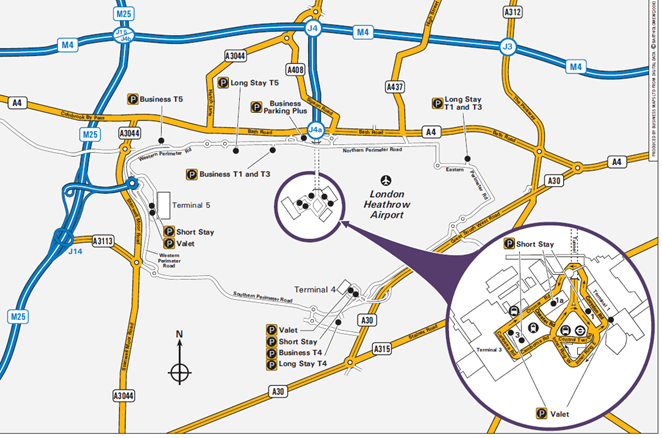 Convenient and comfortable: "Meet & Greet"
An extremely comfortable way to travel leaving your car in safety and security is the "Meet & Greet" option. It lets you drive to a dedicated area at the departure level of your terminal and hand over the keys of your car to one of our friendly and professional drivers who will park your car on a safe parking lot during your absence. When you come back from your journey, your car will wait for you at your arrival so you can easily drive away.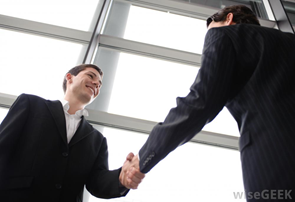 This option is especially recommendable for business travellers with a tight schedule, if you travel with children, elderly people or have lots of luggage. The "Meet & Greet" service has to be booked before your arrival at the airport.
Get a quote for this personalized service – you can get a discount by booking online, or call our Booking Hotline at 020 8226 4707 from Monday to Saturday between 8.00 a.m. and 8.00 p.m., and will obtain a very interesting price – especially for a longer stay. Our cheapest price for this convenient and luxury service starts as low as £34.00 – a real bargain!
The ultimate comfort: Velvet parking
If you are in a hurry to catch your plane – or just like a comfortable way to have it parked for you, you may opt for the Valet Parking.  This service as well allows you to drive to the forecourt of each terminal, and hand over your car to the Valet Service professionals. They will park your car carefully on a secure parking, and if you like, they may even do a complete car care. At your arrival, your car will be waiting for you so you can drive to your office or home.  Prices start at £90.00 for one day – and add about £30.00 for each further day.
Don't forget that booking online will give you access to price reductions