More than 8 million parking spaces
In the United Kingdom, people definitely love cars. 35 million cars were registered in 2011. Of course, all these cars need parking space in the towns, population centres and also at the airports. The British Parking Association estimates that there are between 8 million and 11.3 million parking spaces in total. One of the places where car parks are best organised are the airports. Travellers, business people and families going on vacation alike, appreciate the comfort of driving to the airport in their own car before taking their flight, and also driving back home or to the office after their journey.  It reduces the stress of using one or several types of public transportation, and lets them easily access the terminal with their luggage.
That's why airport authorities and companies providing car parks are eager to offer the best services to their customers – and thus constantly improve their facilities and upgrade them to the latest available technologies.
Easy booking and registration
Thanks to modern technology, management of car parks is done through powerful computers. If you know your flight date and time, you can easily book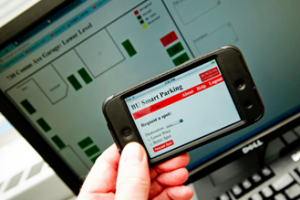 your parking through the Internet – from your computer, tablet or Smartphone – and obtain an immediate reply concerning availability and price. Furthermore, advance booking lets you benefit from substantial price reductions. Unless you booked an unchangeable special offer, you even can modify your flight time or days later-on, if you choose another flight. When you check your car into the parking, the system will recognize your advance booking and assign your parking. Even if you choose to arrive at the airport parking without previous booking, the system will register your car at the entrance if there is any free space. There are many different registration and park management systems; some automatic columns give you a ticket with the entry time, and calculate your stay before you leave. Latest systems even scan your car plate number as you approach the entrance, and after checking if you have booked in advance, they also calculate the parking fee before you leave the parking. Of course, park attendants are always present in case you need any information – or if there is a conflict regarding your stay.
Easy retrieval of free parking space
One of the most frustrating and time-consuming features of large busy car parks has ever been the search for a free slot among the hundreds of parked cars. Often it required the driver to circle the parking several times, and when he or she thought they finally found a free space, they might discover that another car took it before they arrived.
If you pre-booked your parking, of course a space is reserved for you. But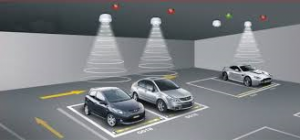 nevertheless, it might be tiring to find it. Various companies developed systems to rid you of the annoyance to search for a parking bay. Some use sensors built into the parking surface itself, detecting if a car drives or stations over them. Others use electronic detection devices built into columns erected behind park spaces, or attached to the illumination poles. Even others use camera observation of the whole parking, which is evaluated by a central server and gives the parking management and users a plan showing the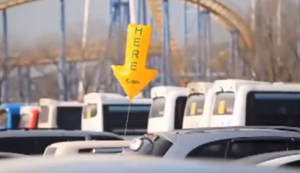 free spaces. All these systems can either display the free spaces on boards inside the parking itself, or can even be accessed through various applications you can download to your mobile device. Such applications may show you the way to take to the free parking bay with arrows directing you to the free space.  A South Korean company recently invented a much simpler, but equally efficient way to detect a free parking space: balloons with an arrow marking "here" and attached to a rope that is fastened on the parking surface itself rise in the air when a park space is free, and when a car parks over the rope it pulls the balloon down, so that it is not visible from afar. An ingenious creation, isn't it?
While you probably don't reflect a lot about all these fine tunings car park managers implement to improve your airport car parking experience, it will certainly reflect in your degree of satisfaction – and probability in you willingness use the service again.
Photovoltaic parking cover
An ideal way to retrieve renewable energy while protecting the cars from sunrays as well as rain, snow or hail,  is to cover the parking with photovoltaic panels or sheets. Although this technological development is not yet applied on many car parks, we will certainly witness the dissemination of this idea. Depending on the climate prevailing in the location of the car park, this is an ideal means of double use of the large surface car parks!