Luton Airport is situated on the edge of the town of Luton in the county of Bedfordshire around 40km north of London. It is just 3km from junction 10a of the M1 motorway which connects to London to the south and Leeds and the M25 to the north. Luton Airport handled over 9.42 million passengers last year and acts as a hub for a number of low cost airlines with most of its passengers heading to European destinations. You can find full details of all the destinations which can be reached from here and the ground handling agents for each airline in our guide to flights at Luton Airport.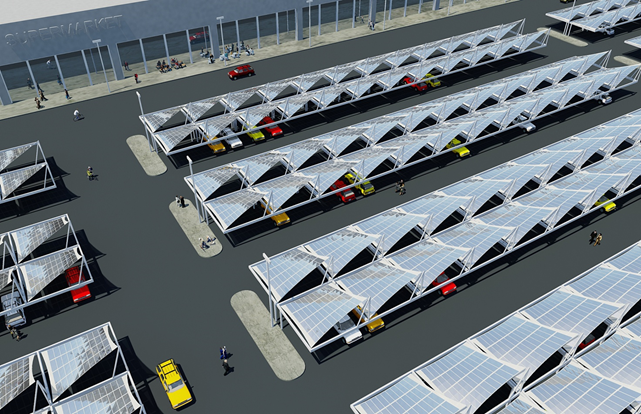 If you are flying from Luton Airport there are about 60 check in check in desks straight in front of you in the departures hall which runs the length of the terminal building. You will find a good selection of shops, bars, cafeterias and restaurants both before and after security. We have put together a table of all the retail outlets at Luton Airport with details of where they are located and what they sell. If you want a meal or a snack while waiting for your flight our guide to restaurants tells you what is available. Our departures section also provides details of the executive lounges and live flight departures information.
If you are leaving your car at the airport there are short, medium and long term parking facilities available. If you use the drop off zone at the airport you are only allowed a maximum stay of 10 minutes and you must not leave the vehicle during this time or it will be removed. If you park for longer than 10 minutes you will be charged. It is easier to use the short stay car park if you are picking someone up and you can check our car parking information for full details of tariffs and where the parks are located including off site parking
If you arrive at Luton then when you have cleared customs and get into the the arrivals area you will see a Travelex where you can change your money and a shop where you can buy newspapers and snacks. If you are meeting someone then we provide details of live flight arrivals. If you want a coffee and a sandwich before you set off to your final destination there is a Costa Cafe and a Marks & Spencer Simply Food here, as well as a Travel Centre where you can book your onward transport including bus, coach and rail tickets or make a hotel reservation. If you leave something on the flight or your luggage does not arrive with you, then you should contact your airline handling agent, and you can find contact details for them on our flights information page.
If you are hiring a car from Luton Airport then four of the major car hire companies are based on the site. The hire car centre is a short ride away from the terminal building with a free shuttle bus operated by NCP making regular trips to take you there. The car hire companies at the airport are Avis, Europcar and Hertz. Or if you want to travel in style we also provide details of local chauffeur and limousine hire agencies.
Four taxi companies are licensed to operate from the airport and use the taxi rank which is in the drop off zone outside the terminal building. You can pre-book a taxi and find contact details in our guide to taxis at Luton Airport.
If you prefer to travel by public transport then there is a good choice of bus, coach and train services operating out of the airport. National Express Coaches run to destinations further afield and other London airports. For more details of timetables and routes check our information and links to bus services at Luton Airport.
There is not a railway station at the airport but Luton Parkway is five minutes away offering regular connections to Central London and other parts of the UK. There is a free shuttle bus from the airport to the station and our guide to Luton Airport Trains provides details or links to the various routes and timetables.
Our general information section tells you everything else you need to know when travelling through Luton Airport including details of the weather with a forecast for the next 5 or 10 days, facilities for passengers with special needs and where you can change your money at Luton Airport.