Parking services: means Work for 66'000 people
Did you think driving your car to a car park and depositing it on o free space is just a simple act of convenience? No, there is much more behind it – an entire service sector, employing more than 66'000 people in the U.K. alone and providing parking services for 26'000 car parks. People love cars. But cars need space. And paved space is limited. Parking is often not allowed on streets, as it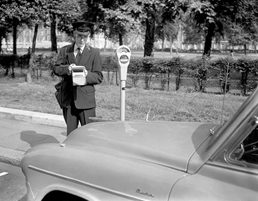 hinders traffic – and thus other drivers. That is what gave rise to an entire service industry, which provides a living to many people. There is an Association, the British Parking Association, promoting professionalism among parking specialists and employees, and excellence in parking for all. It started its activities in 1960 with 70 members, and counts today more than 700 members, half of which are local authorities. The Association also runs the "Safer Parking Scheme", with the purpose of raising the standard of safety, security, design and operation of U.K. car parks. The parks complying with the requirements obtain the Park Mark Safer Parking award, which has to be re-evaluated every two years. Most car parks at London Airports are holders of this Park Mark.
And there is more: the Parking Today and Parking Review Magazine offer news about the latest developments in the field.
Parkex, Europe's largest parking exhibition
Every year, an exhibition is held in a U.K. town, displaying parking products of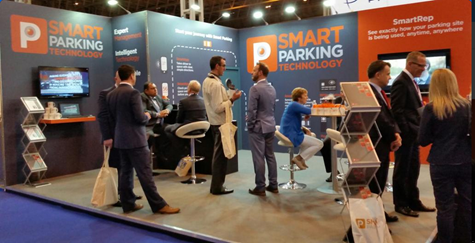 over 120 global suppliers. From road marking equipment, to automatic paying machines, to soft-ware providers, to detection techno-logies and street lighting… the two-day event enjoys much popularity, and is visited by more than 2000 specialists of the parking sector from all-over Europe.
And most importantly, Oscar-like parking awards!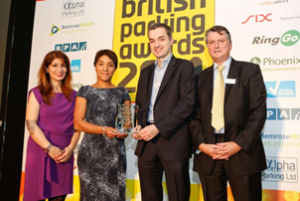 Did you know that there are yearly Parking Awards, celebrated during a gala lunch in a 4-stars London hotel and presented by well-known presenters, actors or comedians?
The event – to which you can assist for £195 – distributes awards in 14 categories.
This year, the trophy of the Best New Car Park was awarded to the London Heathrow Terminal 2 Short Stay parking.
In a similar manner, the European Parking Association also offers biennial awards, to improve the quality of parking structures and services and to promote good services throughout Europe. In 2015 three British firms won EPA awards.
How do you benefit?
While the awards themselves benefit primarily the winning companies and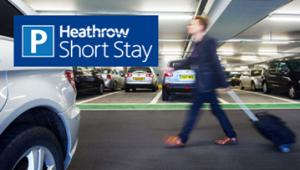 services, boosting their advertisement, you as well benefit from these events, whether you knew that they existed or not. You benefit indirectly from the competition they generate among the service providers, who try to outperform each other offering better services. It
may as well have an influence on the parking fees, which are also affected by the competition between parking providers.
Furthermore, there are many websites with user surveys, describing their experience – whether good or not – with most car parks, especially the airport car parks. They are also closely followed by the car park providers, who try to learn from them where and how they could improve their service.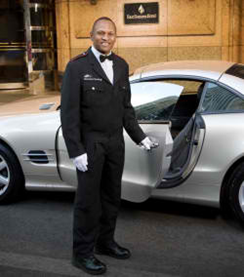 The airport car parks are probably the most exposed to exhaustive scrutiny, as
they are part of the town's and the nation's image – inside and outside the country.  So next time you plan to leave your car at any London Airport car park, you can do it in good faith that your car will be in the hands of professionals, supervised, controlled and encouraged by a powerful association and exposed to the wish to serve you better than their competitors.