Leaving your car with iPark at London's Heathrow or Stansted airports before you travel is the best means to feel comfortable and assured your car is safe and well looked after. If you have any doubt, just have a look at the reviews and ratings – they will show you how satisfied most customers are with our services. Your car is in the hands of professionals, secure and under camera surveillance day and night, and it awaits you when you come back. Moreover, you can choose from several options – and the prices are very attractive. You can also find our discounts on the custom prices, which let you save even more.
If you choose the "Meet & Greet" option, you will hand over the keys of your car to a professional driver at your departure terminal, and you will find it back ready to pick you up when you arrive from your trip. You will not have to take a shuttle bus and carry luggage, and will gain ease and time. However, when you are back from travel you will obviously drive your car – and have to park it in crowded and complex environments. That's why we want to share with you some tips and tricks; with some exercise and practice, you will become a parking expert.
Anticipate and check before parking and leaving
Driving a car involves responsibility, as accidents may happen within seconds. Most importantly you have to make sure before and while parking that the chosen parking space is free of children, other persons and any objects. If you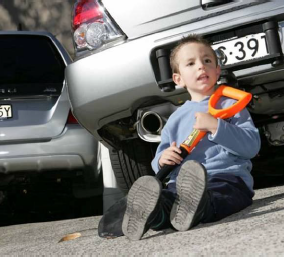 park in a lot with many pedestrians or close to children's' playgrounds or schools, you have to be particularly cautious, as while parking you may have to cope with dead angles and low visibility and suddenly appearing children or cars. When you return to your parked vehicle, walk around the car and make sure that no children or objects are obstructing its way. This also lets you check that no damage occurred to your car while you were away. At the same time, anticipate how you will leave the parking in your mind, and make sure the road is free. When parking or leaving a parking space, look into the corresponding direction directly, use both side mirrors intensively and – if necessary – loosen the seat belt to see as far as possible into the dead angles.
Angled parking
Angled parking spaces are the easiest to negotiate.
Choose a space which will leave a comfortable 1-1½ meter distance on both sides of your car
Signal, approach the free place slowly until you see the centre of the parking space,
Turn the wheel sharply, about half a turn, and slowly enter the space head on.
When it's done, turn your wheels back straight so that you can easily back out when you leave.
Perpendicular parking – forward
Perpendicular parking spaces can be entered forward and backward.
Choose a parking space leaving enough space on both sides; signal, and position the car so that the front bumper is just beyond the taillights of the car before the space.
Turn the steering wheel sharply, and slowly enter the space, until your car is properly positioned.
Straighten the wheels, so that you can leave the space straight back.
Be cautious when leaving the space, and reverse very slowly, as visibility to the sides is very limited. Reverse only as much as needed to be able to oversee both sides; when the way is free, reverse more and sharply turn the steering.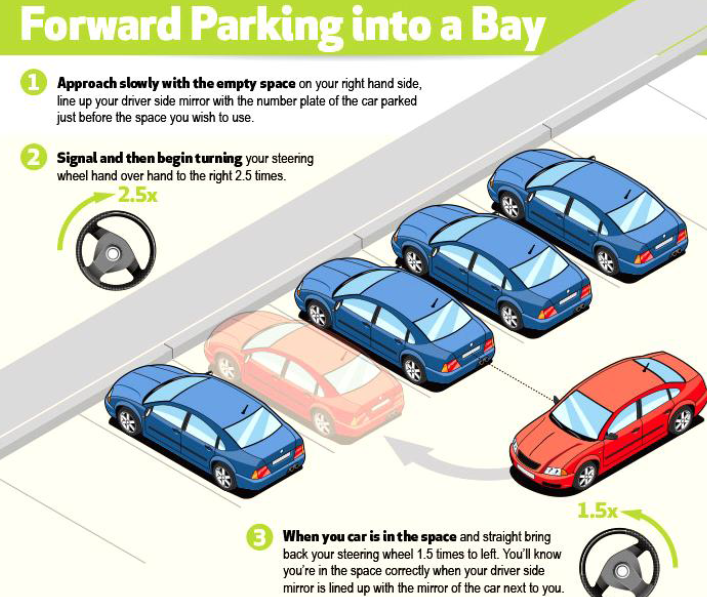 Perpendicular parking – backward
Entering a perpendicular parking space backwards is recommended, as it lets you leave the space with much better visibility to the side. However, until you get a good practice it may be a little more stressful.
Choose a parking space leaving enough space on both sides; signal, and advance until your car's back bumper is just beyond the
taillights of the car after the space.
Turn the steering wheel sharply, reversing very slowly, until the rear side of your car just crosses the line below the car beside you. Enter the space slowly, and when your car is aligned straighten your wheels completing the backward motion. Leaving this space will now be effortless.
PARKING ON A SLOPE
When parking on a slope you have to make sure that the brake and gear will hold the weight of your car.
Drive your car into position, stop and hold the foot brake.
Place the gear into neutral position, whether it is a hand gear or automatic model.
Push the button on your hand brake and tighten it completely; check it once more to make sure it holds, than slowly release the foot brake. Select 1st gear, or "Parking " mode on an automatic car.
For further security, turn the wheels towards the inner side.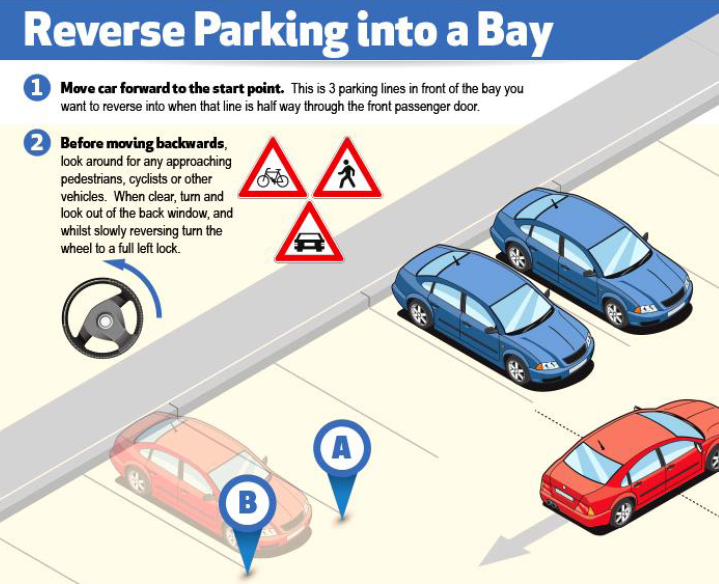 Reverse parallel parking
That's the most tricky way of parking, but often – specially in towns with narrow streets – there is no other parking space available.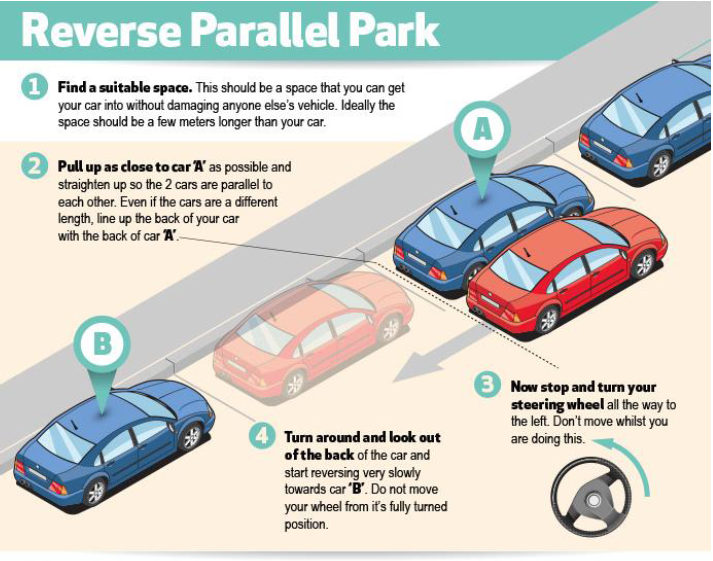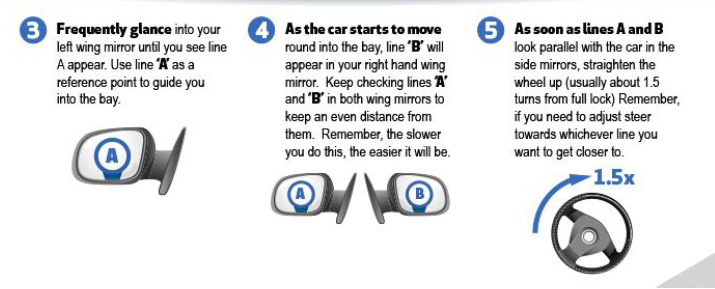 (Inforgraphics by T.W. White & Sons)