How to spend the time you are waiting at the airport
In order to provide organized and secure flights for the millions of travellers passing through the World's airports every year, passengers are asked to arrive at the airport two or three hours before their flight takes off. Transfers between one flight and the other also may last several hours. If passengers didn't mentally prepare themselves for this waiting time, it can be quite frustrating to wait for several hours after having checked in and passed security checks..
There are additional challenges if you are travelling with children, as you have to keep them busy.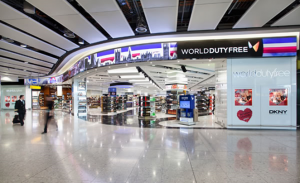 Fortunately, many airports are prepared for these events, and offer a wide range of services, entertainment, shopping opportunities and cafés or restaurants you can access during your waiting time. Just be careful not to miss your flight….
Visit an art gallery…
Let's have a look at the many ways Heathrow Airport is offering relaxation and entertainment to their passengers while they are waiting for their flight.
Heathrow Airport displays one of the World's only on-airport art galleries at Terminal 5. An ideal opportunity to discover the variety of artwork by renowned artists, and also produced by young artists starting their career. At the Art Gallery your time will go by in a fly…
Relaxation and massage!
How about relaxation, massage, make-up and even manicure? At all Heathrow Airport terminals – and in many international airports – you can get a fast or more extensive massage to relax your muscles before flight. And if you want to look like a movie star, you can even have a specialist giving you make-up and manicure. If you are a man, you might prefer to get your shoes shined… a free service is provided. And the best, these astounding services are free of charge….
Some airports even offer a yoga studio, fitness equipment or ping-pong tables –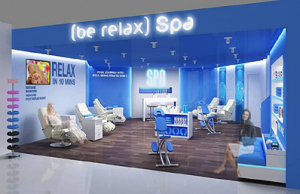 at Singapore Airport you can find a swimming pool and Jacuzzi. While you can go ice-skating at South Korea's Seoul Airport, Hong Kong's airport even offers an on-airport golf course! You may use your spare time to get common vaccinations – like flu vaccination; you may even have your teeth whitened.  So get a health shot…
While Dubai Airport impresses through its wonderful inner decoration, if you travel through Kuala Lumpur you can visit the rainforest – right inside the airport!
Have a nap!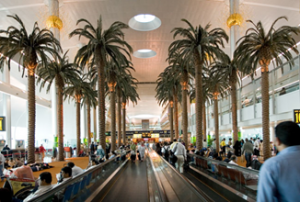 Travelling is tiring, especially if you travel through long distances. You may get a solution even to that problem. Many airports now offer comfortable seats, in which you can relax or have a nap. At Heathrow Terminal 3, you can even rent a small Yotel room (for a minimum period of 3 hours), but only during daytime.
Go shopping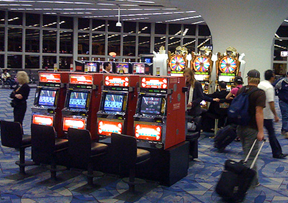 You may also like to go shopping in the luxury duty-free shops, or just have a look at the many items around. Think about loved ones, friends and colleagues to whom you could bring a souvenir from your trip… You could even give some to people at the hotels or places you visit! They will be delighted…
Or play games
Why not choose to play a game. If you travel with other people, a card game, board game or guessing game may be fun, even more so if children travel with you. Some airports also offer gaming stations – for free. What about a "flash mob?" These flash assemblies of people at a certain point of the airport – often performing a short theatrical movement and quickly dissolving – is an amusing way to distract the crowds. Why not be delighted by a "flash mob" done – let's say – by beautiful stewardesses? You may even participate in one… And can you guess what Las Vegas Airport offers to its travellers? A casino with slot machines of course!
Yes, of course, you are at a busy airport. There are several coffee shops at Heathrow giving you a view on the runways. Don't miss that exceptional opportunity…
Maybe you feel hungry (or thirsty) and planned to fill your waiting time having a good dish or sitting at the bar.
Another entertaining activity is to observe people from all-over the World passing by. Try to guess where they are from, or observe their clothing and behaviour – you may guess something about their culture, or try to imagine their personal story, their profession, and the aim of their travel… This is also a fun activity if you travel with children, and gives you the opportunity to teach them something about other regions of the World.
Entertain your children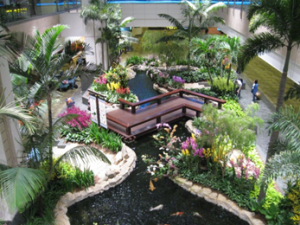 As a similar activity, you may look at the departure board and locate the many towns that appear. Did you know all of them? If not, you can look them up through the Internet. This as well is a curious activity to practice with your accompanying children. Similarly, you can take a seat overlooking the airplane traffic and let them guess the various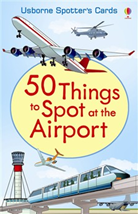 plane types. By the way, there are some excellent books to keep children busy during your journey (but you might have to buy them beforehand). You can order them online through the following link:
http://www.usborne.com/catalogue/book/1~AB~ABHT~4167/50-things-to-spot-at-the-airport.aspx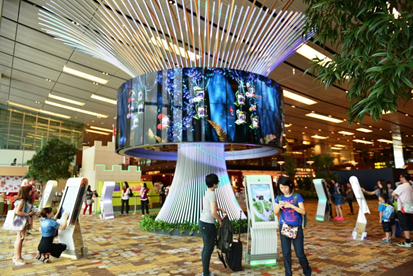 Some airports also offer a supervised play area for young children.
Are you travelling alone? That may be an opportunity to know new people… If you spot another lonely traveller, you can start a conversation with a friendly "Hello". You might meet interesting people, and possibly even become friends!
If you still hesitate, you can just use your smart phone or tablet to surf the web – most international airports offer free Wi-Fi connections. Or use your time to read a book or a newspaper, maybe you don't benefit often from this opportunity.
Take a city tour…
You may have a long transit time until your connecting flight; but don't be desperate, you may even participate in a city tour! This wonderful idea has been turned into reality by Utah, Istanbul and Singapore airports; they offer a free visit of their city in their own buses for passengers in transit through their place. Singapore even offers a day- and a night-tour… Not only is it an ideal means of entertaining their travellers, they might easily be convinced to come back to their town next time!
Great future!
Singapore's Changi Airport also stuns its passengers with a 4-storey slide, a cactus garden, a butterfly garden with more than 1000 species, a free cinema as well as free computers and famous TV program displays. A new feature is LG's "Social Tree", a large round screen with consoles all around where people can "video chat" in real time. And that's not all! The airport plans a new glass-covered 134'000 square meter complex, with gardens, shopping and restaurants – but the main attraction will be a 40 meters high water fountain, which will feature laser light illumination and synchronized light and sound shows! This fabulous attraction should open in 2018.
With all these activities you can do at the World's airports, you will even regret the waiting time until you board your next flight is not longer….