AIRPORT CAR PARKING – IT'S LIKE A SAFE WHILE YOU ARE TRAVELLING
We agree, the airport car parking is probably not the first thing you think about when you plan a journey. However, it has its significance. As you need to be sure your money is secured in a safe while you are away – protected from anything that could harm it, so you want your car as well to be protected and secured so that you will find it ready to drive you home when you return. That's why including the airport car park into your planning is important. Furthermore, if you book your parking in advance you will be sure to find a parking space – and you will even obtain price reductions.
If you travel for business, you may pay more attention to the convenience, proximity to the terminal or the option of having your car parked for you by a specialized service. This will save precious time and set you free to perform more urgent tasks. A business traveller may also opt for the most expedient airport to take off to his destination in the first place.
Leisure travellers however take their time to arrange their holidays;
vacation planning is part of the joy and excitement they feel even before their actual voyage and it is usually a favourite discussion subject within the family. While arranging their holiday, they are more likely to compare the various options and prices offered by London's five largest airports. Except if they want to travel to far locations – in which case they will probably fly from Heathrow Airport, they have a large choice of holiday packages offered by the other airports that focus more on Europe- and North Africa-bound vacations. Usually, the airports hosting low-price airlines also provide price worthy parking options, and some even offer special holiday bargains.
Anyway, it is not crucial that you be flying in order to drive to the airport. You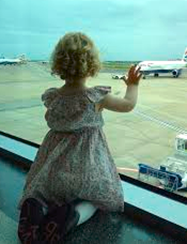 may wish to go to the airport with your family as a week-end recreational trip, for a change from your daily environment, to experience the stimulating international environment in this busy crossing point, to eat out… or to let your children take amazing pictures of the various airplanes landing and taking off. It will be a highly enjoyable outing for the whole family.
London airport Parking prices one week, one day or 5 hours
To get a general idea of the prices of London's Airport Parking, we selected a random week in summer 2015, a random full day and a 5 hours' stay. As prices slightly vary according to the day of the week, season and month of the year, they are to be considered as indicative only; you should search for the right option through the Internet by yourselves once you know your travel dates and time.
Heathrow Airport:
Option
OfficialShort Stay

Parking

OfficialLong

Stay

Parking

OfficialBusiness

Parking

OfficialPod

Parking

OfficialMeet & Greet

Parking

OfficialValet

Parking

PurpleLong

Stay

Parking

PurpleBusiness

Parking

Drop & Ride Parking
Distance
3 – 4 min.
7 – 15 min.
5 – 8 min.
4 min.
2 – 3 min.
1 – 2 min.
20 min.
5 – 13 min.
7 – 15 min.
1 week
£136.10
£81.70 –£89.50
£99.30 –£103.45
£109.00
£150.50
£85.45
£66.95
£49.99-£51.99
1 day
£53.90
£24.50 -£25.50
£25.95
£31.90
£75.00
£85.00
£14.95
£22.95
5 hours
£21.00
£24.50 -£25.50
£25.90
£31.90
£75.00
£85.00
£14.95
£22.95
Gatwick Airport:
Option
OfficialLong Stay

Parking

OfficialShort Stay Premium

Parking

Meet & GreetParking

(various providers)

Meet & GreetParking

With car wash

Valet Parking
Long Stay PurpleParking

Summer SpecialParking
Distance
5 min.
2 min.
2 – 4 min
4 min.
1 – 2 min.
15  min.
10 min.
1 week
£74.00
·         £247.00
£94.99-£140.00
£118.94
£99.00£123.00
£63.99
£68.00
1 day
£17.00
£52.00
£58.99
£84.44
£52.00
£16.99
5 hours
£17.00
£46.49
£52.00
£16.99
 Stansted Airport:
Option
OfficialLong Stay

Parking

OfficialMid Stay Parking
Official Short Stay Orange Parking
Official Short Stay Green Parking
Official Short Stay Red Parking
Official Meet & GreetParking
Official Valet ParkingWith security fast track
Jet Parks
Distance
10 min.
5 min.
3 min
7 min.
2 min.
2  min.
1 min.
15 min.
1 week
£45.99
£52.99
£94.99-£140.00
£59.99

£67.99
£67.99
£39.99
1 day
£39.99
£41.99
£58.99
£49.99
£57.99
£69.99
£69.99
5 hours
£20.99
£46.49
£35.99
£36.99
£59.99
£59.99
Luton Airport:
Option
OfficialLong Term

Parking

OfficialMid Term Parking
Official Short Term Parking
Official Meet & Greet Priority Parking
Swift Meet & Greet Parking
Official Meet & GreetParking
Airparks Drop & Go
Airparks Drop & GoNon-Flexible
Distance
10 min.
5 min.
3 min
2  min.
2 min.
2  min.
13  min.
13 min.
1 week
£63.49
£77.49
£145.49
£125.49
£110.00
£67.99
£62.99
£59.99
1 day
£20.99
£24.99
£46.99
£.52.49
£80.00
£69.99
£55.99
£52.99
5 hours
£15.49
£17.49
£25.99
£41.99
£75.00
£59.99
£55.99
£52.99
London City Airport
Option
OfficialTerminal Short Stay

Parking

OfficialLong Stay Parking
Official Business Meet & GreetParking
Butterfly Meet & Greet Parking
 
Distance
1 – 2  min.
2 – 5 min.
1 min
2  min.
1 week
£308.00
£166.00
£166.00
1 day
£50.00
£35.00
£35.00
£59.00
5 hours
£166.00
£40.00
THE CHOICE IS UP TO YOU
As we can see, the prices for priority services – Valet as well as "Meet & Greet" parking – are in the same category no matter which airport you choose. Anyone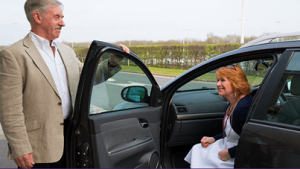 who is in a hurry, who needs to manage his or her time, who travels with children or elderly people, or who needs the convenience of being able to drop his or her luggage close to the entrance of the airport, will certainly appreciate these privileged services. You drive to a specially designated place close to the terminal, and leave your car to a professional driver who will park it on a secured space for you. When you come back from your journey, your car will be brought to you so that you can easily load your luggage and drive home – or to your office. There are several companies offering this kind of service, so you may find varying prices.  While you search for the appropriate option through the booking form on the Internet, you will also find a rating given by former customers to the respective services. This may further help you select the best option.
In general, long-stay parking options are cheaper than short-stay parking lots, as they are located farther away from the airport and require a shuttle service to take you to the airport. If you select this option, don't forget to secure some additional time to wait for the shuttle – and include the transfer time into you planning.
The terms "short-stay", "mid-stay" and "long-stay" don't effectively relate to the time-span in which you want to keep your car at the airport. They rather refer to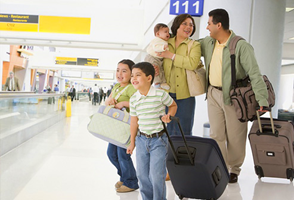 the distance of the parking from the entrance of the airport, and consequently to the price scale. If you prefer the comfort of driving to the parking closest to your terminal – which is usually the short-stay parking – you may well leave your car there for an extended period of time. On the other hand, if you decide to visit the airport with your family as an entertaining week-end outing, you may benefit from the lower price of the long-stay parking and leave your car there during the whole day for a low fee.
Beside the general considerations, we see that parking prices at airports that are more focused on low-tariff flights and vacations are lower. If you are arranging your holiday, it is therefore a good idea to compare the long-stay prices of the airport parking – together with the holiday packages flying from that airport – and to select the best combined offer.
We wish you a nice and happy holiday, with the peace of mind that your car is in secure hands and good care…