STANSTED AIRPORT PARKING – THE LARGEST AIRPORT CAR PARK IN EUROPE
Did you know that London Stansted holds the European record as the airport offering the largest parking facilities? In fact, Stansted parking holds a capacity for 25'726 cars! More than enough to leave your car at the airport – benefiting from the high security monitoring of the parking lots, the excellent price offers and the large choice of options at hand!
Stansted offers a wide range of direct-flight destinations – more than 150 – to all of Europe, some North African vacation spots and inland flights to major towns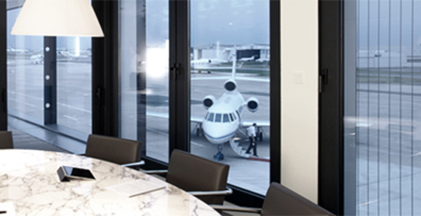 of the United Kingdom. Stansted is the major hub of Ryanair, who by its own operates flights to 100 major towns and holiday destinations – mostly year-round, but some season-based. In 2014, 19,9 million passengers used the services of Stansted Airport – an increase of 11.7% from the former year. Recent expansions make sure that your airport experience be pleasant and comfortable. More than 100 check-in desks take care that you can proceed to your check-in without much waiting and access your flight as fast as possible, and at arrival you will be able to pick up your luggage swiftly from one of the several luggage carousels.
Stansted also services large amounts of cargo flights, including fast courier, and handles the second-largest amount of air cargo in London.
A cosy and relaxing separate Private Jet Terminal at Stanford handles a wide range of on-demand and scheduled private jet flights to over 100 destinations. Whether you are a busy businessman needing a fast transfer to your next conference – or just would like to give your next vacation a luxury start enjoying V.I.P. treatment – Stansted Private Jet services offer the right solution for you.  Of course, at that terminal as well you will find an on-site secure parking – which is included in the rate of various private flight offers.
For most travellers coming to Stansted Airport, the best option is to drive to the airport in their car and to park it on a secure parking at the airport. For their peace of mind, the parking lots are all monitored day and night with CCTV cameras, well illuminated and controlled by frequent security patrols. Stansted Parking offers a wide choice of options, so that everyone can find the appropriate parking for his or her needs. In addition to the already competitive official parking prices, you may save up to 70% by booking in advance through the Internet.
Stansted Airport short-stay parking
There are three Short-Stay parking lots, all located next to the terminal; they are divided into "green zone", "orange zone" and "red zone". Park your car, and a few steps will bring you to the airport's entrance. This parking is ideal if you want to save time, if you travel with your family, and have much luggage. It is also the option of choice for short visits to the airport. An automatic number plate reader at the entrance assures a fast and hassle-free parking procedure.
The official prices starting on 1st July 2015 are as follows (you can obtain price reductions by booking online in advance):
| | |
| --- | --- |
| 0 – 30 mins | £3.50 |
| 30 mins – 1 hr | £7.00 |
| 1 – 2 hrs | £12.00 |
| 2 – 3 hrs | £14.00 |
| 3 – 6 hrs | £20.00 |
| 6 – 24 hrs | £40.00 |
| Each additional 24 hrsor part thereof | £40.00 |
If you want to leave your car at the Short-Stay parking for one week, you will only pay £55.99 for the "green zone" and £67.99 for the "orange zone" – that is if you book your parking in advance.
Stansted Airport parking meet & greet
For busy business travellers, families, people with heavy luggage – or just the convenience of driving up to the airport terminal and handing over the key of their car to a professional driver who will park their car for them – there are several alternatives of "Meet & Greet" services. The arrival time has to be communicated in advance. After the traveller's return, his or her car will be brought to him or her at the same place he or she left it.
As beside the official Stansted parking there are several companies offering this services, the prices highly vary.  The fee for this privileged service starts at £33.00 up to £60.75.
Stansted Valet parking
Valet parking is the ultimate V.I.P. service. You drive directly to the forecourt of the terminal, hand over your car to the professional personnel of the Valet service who will keep your car securely parked until you come back from your travel. At that time your car will be brought to you to the arrival exit. Furthermore, you and up to five persons accompanying you will receive privileged fast-track security clearance before your flight. For this package as well, you have to call before your arrival.
Valet V.I.P. service will cost you in average £97.95.
Stansted express set down and pick up parking
This parking is intended for dropping off travellers to the airport or picking up arriving passengers. You may use it if you have just a short visit to do to the airport, but the car can't be left unattended.
The minimum charge is £2.50 for 10 minutes; every following minute will be charged further £2.50. After you left, you can't come back to the same parking within 30 minutes, or have to pay a fine of £20.00.
Stansted Airport mid-stay parking
A Mid-Stay car parking with a capacity of up to 5300 cars is situated close to the airport terminal – you reach it in just 5 minutes by courtesy shuttle transfer.  This parking as well operates an automatic number plate detection system for fast processing.
The first hour of parking on this facility is free of charge, two hours cost £1.00. After that, the price for the first and each following 24 hours is £21.00 (or only £12.50 if pre-booked). At the Mid-Stay parking you will pay about £58.30 for one week.
Stansted Airport express mid-stay parking
With this parking option you benefit from the services of the ordinary Mid-Stay parking – with the additional advantage of receiving fast-track tickets for a speedy security clearance at the airport for you and up to 5 accompanying passengers.,for an additional fee.
Stansted Long-Stay parking
Are you looking for a price-worthy solution to park your car while you are away? Stansted Long-Stay parking offers the security and registration convenience the other parking options do, but it is situated a bit farther. Every 15 minutes, there is a free shuttle bus that will bring you to the airport terminal in an 8 to10 minutes ride. This parking lot also offers free parking space for bicycles and motorcycles.
If you book in advance, you can park at the Long-Stay parking for a flat fee of £19.00 per day (or part thereof). If you book online, a week's stay at the long-stay park will cost around £48.30.
Stansted Jet Parks
The cheapest option to park your car at Stansted during your voyage is the Stansted Jet Park. Offering full security features and plate recognition as well, you can leave your car at this parking and take a 10 to 12 minutes bus ride to the airport.
At Stanford Jet Parks, you will pay only around £43.99 for a full week's stay if you book in advance.
AMENITIES FOR TRAVELLERS WITH DISABILITIES
All the parking options at Stansted Airport have special parking bays for Blue Badge holders. The shuttle buses from the Mid-Stay, Long-Stay and Jet Parks are accessible with wheelchairs.
Parking at Stansted Airport is easy, price worthy and convenient. Stansted enjoys very high ratings from its users for all the offered parking facilities and services.