Working as an airline pilot – is it a dream job?
You drove to a London airport with your family, parked your car choosing one of the many airport parking options, and walk into the terminal, be it to fly to your vacation destination – or to offer your family a nice and enriching day out in the thriving airport atmosphere.
Among the many people from all different regions and cultures of the World mixing in the hall, you notice one man in a perfectly tidy uniform, discerning himself from all the people around him. Why? He is a pilot. He personifies the dream I was playing and replaying in my mind in all shapes, colours and variations when I was an adolescent. I peek at my 15-years old son – and see him staring at the pilot with a glimmer in his eyes. I see what is going on in his mind – he is dreaming of becoming a pilot… Even my 12-years old daughter seems to be fascinated by this man – she sees him as a hero, a man who achieved the impossible, admired and coveted by everybody.
But is piloting an airline jet really a dream job? Flying certainly is one of the oldest ambitions of mankind. Who has been flying, even only once in his or her life, usually longs for taking the air again. And whose aspiration is to look at the beauty of our planet from above – and feel the sensation of freedom and excitement the birds made their own – will never stop looking to the sky wishing to be there. That's why piloting an airline jet is certainly a fascinating activity.
Mental and financial efforts required
But being a professional pilot implies much more than just the "flying" part. It requires huge efforts – both mental and financial – just in preliminary studies and training. Aspiring pilots should complete a 4-years study, preferably in aviation management, aviation technology and aircraft engineering that are combined with 'pilot studies' or other studies providing a good understanding of mathematics and physics.
After completion of the university or college studies, the contender will have to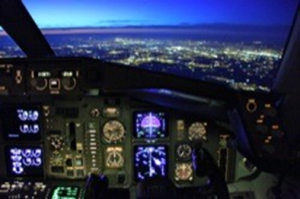 obtain an Airline Transport Pilot Licence (ATPL). If he (or she) can afford an integrated course, it will last about 18 months – and cost between £80'000 and 90'000. The student may also obtain the licence in a modulated course, allowing him – or her – to work and contribute to the costs.
That's when the aspiring pilot can finally start flying (unless he or she could afford flying lessons before that) – and fully concentrate on the many skills, constraints and requirements that are needed to fly a commercial airplane.  Beside the prerequisite of excellent knowledge in mathematics, physics, technical an basic engineering, a flawless physical and mental health and sight, the future pilot will also need to demonstrate an outstanding spatial awareness and
coordination, English language and communication skills, the aptitude to think quickly and make decisions, team-working and leadership skills, and the ability to remain calm under pressure and keep control under difficult circumstances.  There are also essential character traits a pilot must ascertain; inflexible discipline, self-confidence and commitment, and the awareness of the huge responsibilities he (or she) will be bearing. – In addition to a lot of patience.
Can our young pilot finally take the commands of a passenger airliner? No, not yet. Now he or she has to accumulate full 1500 hours of practice to be recognized as a captain – in the form of flight hours. According to his or her progress, the new pilot may find an employment as first officer, and later be promoted to senior first officer.   Beside the huge amount of hours they have to accumulate, the young pilots desiring to apply for a promotion as captain need to complete another intensive training course. When the need for commercial pilots is big, airline companies may agree with a newly licensed pilot and  give him or her the opportunity to fly as much as possible (of course, together with operating crew) , but often at a low wage. Others try to accumulate flying hours by flying small planes, agricultural or fire-extinguishing planes, cargo planes etc.).
Finally a captain…
Let's say our young pilot – after renouncing on so many activities young people usually appreciate – finally advanced to the prestigious position of captain, and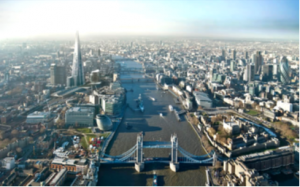 from an average salary to a more attractive remuneration.  So are the constraints finally over? No, they even become harsher. The captain must really love his job to be able to bear them. His responsibility grows; every smallest error or mishap could be used against him. If he flies long-haul flights, he will be away from his home for half to three quarters of the month. That's especially hard to bear if the pilot has a family, and must renounce on many family events. He will change time zones and climates as well as food habits several times in a week. Furthermore, he will have to sleep at hotels which are not always comfortable. Pilots say they are "living out of a suitcase"… And next day, they will be in charge of another flight that may challenge them to cross stormy clouds or lead them from a burning sun to snow-covered landscapes.
However, what pilots criticize most is the fact that since the last twenty years – with the boom of low-fare airlines – wages, benefits and services to the flying staff all diminished. Moreover, if a senior first officer or captain want to apply for another airline, their career might not be recognized and they have to start the whole career program again.
So is the position of airline pilot really the dream job we imagine? If he loves flying, loves being at the command of the wonderful flying machine that is an airliner, and appreciates the opportunity of discovering the World – country by country, city by city, culture by culture – than the pleasure, excitement and thrill of being in the air – observing the wonderful land and sea formations, flying through the clouds, into sunrise and sunset – and the prestige and admiration people award him, reward him for his sacrifices.
Now, when you join your children in the airport cafeteria in observing the planes on the tarmac, you can tell them what the life of an airline pilot looks like. And you can explain them what efforts, Endeavour and struggle they have to wage if they want to become airline pilots. If they are still convinced they want to achieve their dream, definitely encourage them. There is nothing more fascinating than flying!